Shortcode Press Release
Betwext.com Releases New Small Business Texting Products… New Shortcode Texting Services Can Save Small Businesses Thousands of Dollars a Month!
Will Small Businesses Learn?
Marketing studies show more than 94% of text messages are read… making text marketing a powerful marketing channel that many businesses fail to use!
Gilbert, AZ, January 18, 2018 – – Every day, millions of consumers leave their home with their smartphones in tow. Smartphones are now a ubiquitous part of Americans everyday life.
Smartphones are so critical to everyday life that 55% of phone owners between the age of 18 and 35 reported using their phone in the bathroom! Gross, right?
On top of that, a study by A stud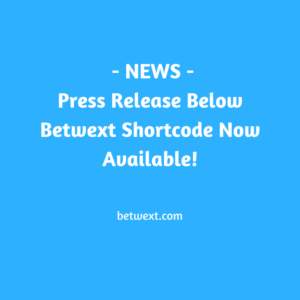 y by Kleiner Perkins Caufield and Byers found the average user checks their phone nearly 150 times per day.
Now, here's another interesting fact… did you know 94% of all text messages are read!?!
Despite the fact that smartphone users look at their phone 150 times a day and 94% of all text messages are read, most small business owners DO NOT use text marketing as a component of their overall marketing efforts.
Betwext VP of Marketing Brian Mikes said, "Texting customers is an incredibly powerful marketing technology. Just look around and you'll notice the option to Text for more info or a coupon almost everywhere."
He went on to say, "If you are running a small business and not using texting in your marketing, you're already behind the curve."
When will small businesses learn?
Many small businesses blame cost as the primary reason they don't use text message marketing.
They are partially right. A dedicated shortcode for texting can run between $500 and $2,000 a month… and that doesn't include texting costs, setup fees, and other expenses.
Betwext.com is offering a very different kind of texting service. Using a shared shortcode system, small businesses can start sending and receiving text messages with an entry level service for just $49 a month… and that includes up to 1,000 sms messages!
The beauty of a texting service like Betwext is, you can be texting prospects, customers, and your VIPs in just a matter of minutes!
To learn more about Betwext.com texting services please visit betwext.com.
About Betwext.com: Betwext.com is a leading provider of SMS and MMS marketing software to small businesses. Betwext provides both Long code and Short code texting options, at an affordable price. Founded in 2010, Betwext has been helping small businesses grow by using group texts and mass text blasts targeting prospects and customers. To grow your business visit Betwext.com/start