GivingText.org… The BEST Nonprofit Text Message Marketing System
Do you run a nonprofit, charity, or good works organization? Let us help you raise money for your group!
A few weeks ago, we wrote about our newest venture, GivingText.org. We started building the best nonprofit text message marketing platform in the world… and I'm proud to announce, we reached our goal.
GivingText.org went live a few days ago, and we're now spreading the word.
If you run a nonprofit or charity, I encourage you to contact us.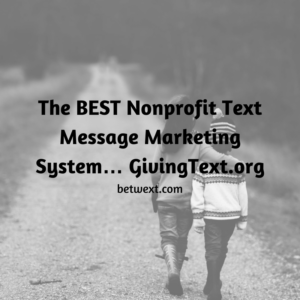 Why?
Because the biggest problem nonprofits have is raising money to accomplish their good deeds, and we have a system to help raise money!
I challenge you to name one nonprofit that has too much money in their coffers. It just doesn't happen.
If you run a nonprofit, you know exactly what I'm talking about…
Raising money is always on your mind.
Let us help.
How Nonprofit Text Message Marketing Works…
Most nonprofits raise money the old fashioned way. They run a charity event… or they have a phone bank calling asking for donations.
Some still send snail mail… and yet others send requests by email.
The problem is… engagement sucks.
Nobody answers their phone anymore… Charity events are limited by attendance, and snail mail gets a 2% response rate.
If you send an email… you're doing better, but only about 20% of your email list will see your message.
Right now, text message marketing is the new, HOT thing.
Read rates are averaging 90% and it's not uncommon to get 30% of your list to respond to a simple message!
This is where GivingText.org really shines.
The entire software is in the cloud and sending a bulk text message to your supporters is as easy as sending an email. (But, with better results!)
We've made it easy to add people to your list… through keywords, or file uploads.
We've made it easy to segment your groups by using different lists (donors, VIPs and volunteers for example)
We've made it easy to send a message in just a minute or two…
And best of all, we've enabled the ability to track your response and respond individually to your supporters (most systems are not equipped to do one to one communication!)
Best of all, to raise money, you simply drop in a link and hit the send button… you'll have donations flowing into your nonprofit in no time.
How to Get Started with Nonprofit Text Message Marketing…
If you want to test out GivingText.org, head over to the website and click "Start Here"
Or if you're looking for a quick overview of the system, you can check out this video: http://www.givingtext.org/videos/
If you don't run a nonprofit, but want to use text message marketing for your business, check out Betwext.com, where you can download our special report just for you… "The Ultimate Guide to Mobile Marketing"
You can download it free – right here: https://text.betwext.us/ebook-mobile-marketing/
Remember text message marketing is much more powerful than social media marketing or email marketing… and it's a tool that anyone can use to grow their business! Try text message marketing today with Betwext.com.