2017 New Betwext Pro Features and Functions
What You Need To Know About Betwext Pro…
Our last blog post was about month ago… and the reason we were silent for so long? We were working on the launch of the Betwext Pro system.
Betwext Pro is our answer to small businesses wanting to ramp their text message marketing more aggressively.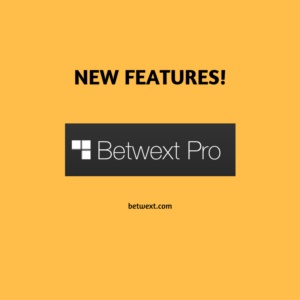 Betwext Pro is our way of adding advanced functionality for marketing professionals at every small business!
Betwext Pro is our way of providing top tier service to agencies who want to manage different client accounts.
We're officially launching the Betwext Pro system and making it available to everyone.
If you're interested in signing up for Betwext Pro, please use this link: https://pro.betwext.com/auth/signup
Now let me tell you a bit about Betwext Pro and how it's different from our Gold and Silver Plans.
What Makes Betwext Pro Special…
At the heart of Betwext Pro is a new technology using an advanced long code number rotation technology.
It sounds fancy, so what's it do?
It allows us to send messages from numerous long codes, speeding up delivery. Put it this way… if you want to fire out 500 or more messages at a time… this technology makes it even easier!
The technology also helps eliminate some carrier filtering issues – helping ensure text message delivery.
This is a huge breakthrough… but that's not the only improvement we've made.
Betwext Pro also has an advanced add on data validation service. Sounds complicated… but it's not. The data validation service allows you to verify your phone numbers line type, identify contact information including name, address, and other demographics… and in some instances social media accounts and more!
Think of the power of this information… with only a click, you have at your fingertips critical information about everyone on your text message list.
My description above is only the tip of the iceberg – learn more about data validation here: http://www.betwext.com/validation/
Is that all?
Not by a long shot.
Now here's a cool marketing feature… Birthday Rewards!
Ever want to give a customer a special gift on their birthday? Well, you can text your customers a birthday reward – it's a cool feature built into the loyalty system!
Those are some of the big changes we've made to the Betwext Pro system…
We've also made hundreds of small improvements across the system including:
Simplifying number swaps
Enhancing auto responders
Improved one to many and one to one messaging
Made easy list import and export
Simplifying number selection
Better arranging keyword selection and use
Enhancing the scheduler system
Improved MMS delivery (so you can send pictures and video!)
All these improvements, yet the cost is still low, low, low…
Despite all of these improvements and changes to the system, we've managed to keep our texting prices CRAZY LOW.
As I write this, when you send an SMS message the cost is just $0.02 and $0.04 to send an MMS message! And we never ask for a contract… sign-up, use the system, and cancel any time.
With all of these improvements, I'm sure you're wondering…
Is Betwext Pro Right For Me?
If you're already on the Gold or Silver Betwext plan, you know how great our system is to use. But should you upgrade to Betwext Pro?
Ask yourself a few simple questions…
Am I an agency needing to manage multiple separate accounts? (Y/N?)
Am I regularly sending more than 500 text messages at a time? (Y/N?)
Do I need a Loyalty Reward Program? (Y/N?)
Do I need to send to send Birthday Rewards? (Y/N?)
Do I need advanced data on my customers and prospects? (Y/N?)
If you answered YES to any of the questions, I'd suggest giving Betwext Pro a serious look. The service is still drop dead simple to use… and the performance of text message marketing is off the charts!
If you're interested in signing up for Betwext Pro, please use this link: https://pro.betwext.com/auth/signup
If you're not quite sure, here's a simple breakdown of the Betwext Premier, Plus and Pro Plans.  https://www.betwext.com/technology-price-2/
What If I'm Just Getting Started With Mobile Marketing?
If you want to use mass texting to promote your small business, we wrote a special report just for you… "The Ultimate Guide to Mobile Marketing"
You can download it free – right here: https://text.betwext.us/ebook-mobile-marketing/
Remember SMS marketing is a very powerful tool that small businesses use to grow customer interaction and sales. It's a cost effective way to communicate with your prospects, customers, VIPs, and employees! Try SMS marketing today with Betwext.com, and be sure to look at our Betwext Pro system.