Network Marketers Start Here
Attention Network Marketers…
Are you trying to Build & Grow Your Business?
Are you working to Improve Customer Relationships?
Are you trying to Communicate Better With Your Downline?
Do you want to Increase Sales and Make More Money?
Let me show you how THOUSANDS of other Network Marketers are using SMS Marketing and Text Message Marketing to Improve customer interaction, step up customer relationships, and BUILD AND GROW their network marketing business.
The result is Skyrocketing sales, and more money in their pocket.
But before I tell you more, let me first ask a question:
How many times a day do you look at your phone?
Seriously.
Think about it for a moment.
How many times do you pull your phone out and look at it?
How many times do you read a text message?
How many times do you look something up, or map out directions?
How many times do you pull your phone from your pocket?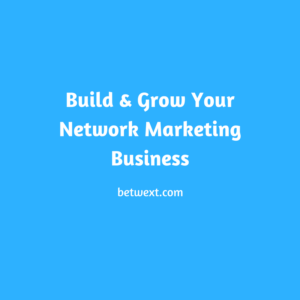 Here's the facts:
A study by Kleiner Perkins Caufield and Byers found the average smartphone user checks their phone nearly 150 times per day.
Stunning…
150 times a day people are checking their phone.
Now, here's another interesting fact… did you know 94% of all text messages are read!?!
That's astounding.
Now, let me ask you something, if your network marketing customers are looking at their phone 150 times a day and 94% of all text messages are read… don't you think you should be using the power of text message marketing to promote your network marketing business?
OF COURSE YOU SHOULD…
Look, you can try and do text marketing on your own.
You can try to gather peoples phone numbers one by one…
You can try and track updated contact information from customers…
You can spend hours typing in message after message on your tiny cell phone…
You can try and figure out which messages get the best response rates…
You can try to figure out how other businesses are using text message marketing and "borrow" their ideas…
You can hope your cell phone, with all that data, doesn't get lost or stolen…
You can TRY to figure this all out on your own… Or you can give Betwext a try.
Betwext is a simple text message marketing software system.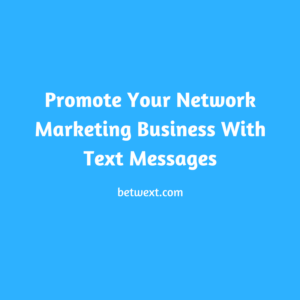 Right out of the box, it allows you to:
Automatically collects customer phone numbers…
Categorize customers based on interests (like special events, food types, product interests)…
Automatically handles changes to customer preferences and contact information updates…
Automatically allows a customer to opt-out of your list (keeping you on the right side of the law)…
Makes bulk messages easy to set up and send…
Allows you to use a computer, tablet, or your own smart phone to type a text message (no more punching at tiny keys on your phone – unless you want to!)…
Allows you to schedule all of your text messages days and weeks in advance… plan a month of marketing messages in one day!…
Provides up to the minute tracking, so you can see instantly which messages get the best response rates…
Provides data back-up in a secure environment, so your data is always safe and your marketing messages go out without a hitch…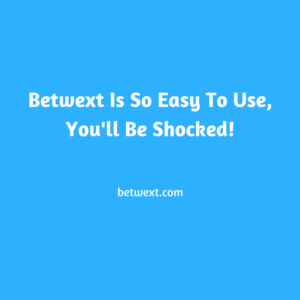 With Betwext.com, you can be sending marketing messages via text in less than 10 minutes!
Betwext.com is so easy to set up and use, you'll be shocked…
Who's using Text Message Marketing Now?
Don't think text message marketing is for you?
In addition to THOUSANDS of Network Marketers using text marketing, look at how other organizations are putting this technology to work. For example:
Religious organizations are using text message marketing to stay in touch with their members. They're often using Betwext.com to:
Alert members to schedule changes
Announce new projects and events
Coordinate group donations
Organize volunteers at events
Restaurants are active users of the Betwext text messaging service. They're using Betwext to:
Promote discounts and specials
Drive traffic to the restaurant using instant coupons
Remind people around dinner time about their dining options
Announce special events
Allow people to book reservations
Send coupons and deals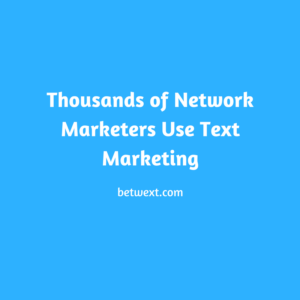 Charities and Churches are using Betwext to:
Recruit new members
Provide potential volunteers with information
Encourage people to donate
Ask people to volunteer
Social groups, event planners and political parties are using Betwext to:
Coordinate meeting times
Announce schedule changes
Provide promotional activities to members
Allow for premium information to select members
Encourage users to VOTE!
Businesses and organizations of every stripe are using text message marketing to communicate with their prospects, customers, and VIPs.  The question is, why aren't you?
It's not expensive…
Why Text Message Marketing is SO CHEAP!
Text message marketing is the next evolution of the smart phone.
It gives Network Marketers a one to one connection… it allows for steady communication with the highest engagement rates in the marketing world!
This wouldn't be possible without the advent of smart phones… and text messaging.
Now many of the Professionals in the texting industry call it SMS marketing… I call it texting. I guess they just like to use fancy words!
Thankfully, the phone companies haven't jacked up text message rates… and that's what allows super cheap text message marketing to be so effective.
Consider this…
Let's just say for easy math… You're a Network Marketer with 200 unique customers who order from you on a regular basis… AND you have another 50 in your downline.
How much does it cost to send messages to everyone?
Just PENNIES!
Let's start with your downline.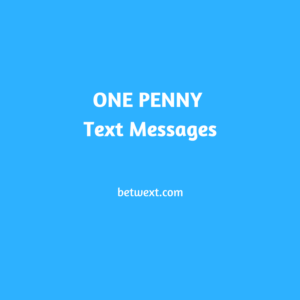 You'll communicate with them daily… reminding them of goals, sharing inspirational messages, alerting them to contests, product offerings, rate changes… whatever you want.
Remember this is a message you send out every day… the cost 50 CENTS a day… or about $15 a month.
What a way to motivate your downline and keep everyone moving forward.
And what about your customers?  What about those 200 regular buyers?
We'll you're not going to text them every day… maybe once a week to remind them of deals, tell them about new products, and educate them on your products.  That's going to cost you a whopping $2 a week… or $8 bucks a month.
With Betwext your sending costs are just $0.01 cent each… so every sms message you send is just a penny.
Compare that with other types of marketing.
So what's "regular" marketing cost?
How much does it cost to place a yellow-pages ad (if they even print those books anymore)… or run advertising on Yelp, or one of the other social media sites… $2,000… $3,000… $4,000 a month?
I've read of customers paying $300 or more a DAY for advertising!
The problem is… when you advertise with those sites and services you HOPE the customer sees your ad… ignores all your competitors' ads… and decides to order from you.
Compare that to text message marketing.
With text message marketing you can reach all of your unique prospects, customers and VIPs at once… for 1 CENT per message.
Now we do charge a small monthly fee for the texting service, but those rates are low too… you can check them out right here: Betwext's super low priced texting plans.
When it's all said and done, you're looking at a 97.5% to 99.0% SAVINGS on marketing costs.
And best of all, you KNOW your message is being seen and read by your customers – remember 94% of all text messages are read!
So, for just ONE PENNY you can communicate directly with your customers and get them engaged in your business, with your products, and focused on your promotions!
And at the end of the day that means more business… and that means more money in your pocket.
At Betwext, we want to help people in the network marketing industry get ahead.  That's why our 1 PENNY texting rates are some of the lowest in the industry!
Use this link to sing up for Betwext.com and our low text message rates. CLICK HERE!
Sometimes I get a strange question…
Is Text Message Marketing Difficult?
We get this question a lot, and the simple answer is: "NO."
Text message marketing is simple to set up use.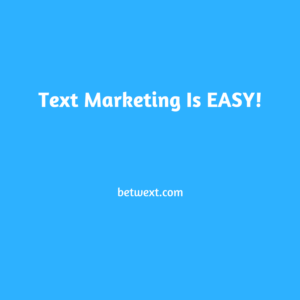 Consider this… we can have you set up and sending messages in just 10 minutes.
If you want to see how the system works, check out this video:
Betwext's Text Message Marekting Video
But that's not all:
Once you sign up you'll get set-up quickly, we'll send you information about text message marketing.  We'll share creative ways other customers are using text message marketing to grow their business. You'll also learn things like:
What the best messages are…
What times to send messages…
Creative ways to use text messages in your business…
Text Message best practices…
What not to do…
And much, much more…
In a nutshell, text message marketing is an easy, cost effective, and highly engaging way to communicate with your prospects, customers and VIPs.  You'll quickly build your network marketing business, and at the end of the day put more money in your pocket with limited effort.
Don't wait, sign up today for Betwext's Text message Marketing system.
A Special Text Marketing Offer
For a limited time only, if you sign-up for Betwext.com today…
We'll throw in a free 20 minute marketing consultation with a text message marketing expert.
We'll give you marketing ideas, share best practices, and help you jumpstart your text marketing campaign.
Simply sign-up and set up your account… then send customer service an email requesting your free 20 minute consultation, and they'll get it scheduled!
This is a limited time offer.  So don't wait, sign up today!