Text Message Marketing Service
Three Tips to Drive Test Message Marketing Success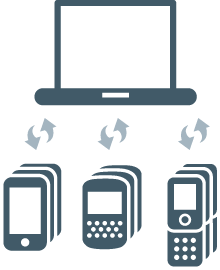 Text Messaging is used by more than 90% of mobile phone users. Successful businesses are using text message marketing services to communicate with their customers. Use our tips to success to expand your reach!
Text Messaging Marketing is becoming a key tool for businesses to reach their customers and clients around the world.
With more than 90% of mobile phone users engaging in the use of text messaging services it is no wonder that businesses are investing their marketing dollars into this service. Driving business has never been easier.
Did you know that text messages have a 98% read rate and a 100% open rate? Did you also know that a text message is generally read within 15 minutes of receipt? With stats like these…your business is sure to benefit from Text Message Marketing!
The success of text message marketing relies upon regular engagement with customers to assist in building strong relationships. With people always on the go, text message marketing provides businesses with a quick and easy way to alert customers and clients about special promotions, company deals, coupons, and important company updates!
But better still….at only pennies per text, Text Message Marketing is the most affordable form of communication. Start putting your marketing dollars to good use through Text Messaging Marketing engagement opportunities.
Here are three tips to help make text message marketing a success for your business…
Text Message Marketing Tip #1
Offer customers and clients coupons and/or promotions via text message marketing. These offers will engage your customers and drive new business.
Promotions and coupons are a great way to get people to spend more money! Offer your customers something that speaks to them and brings them in the door. This will create a stronger relationship, build trust, and ultimately increase your sales!
Text Message Marketing Tip #2
Sending out polls and surveys by text message is a great way for businesses to gauge customer interest and assess products.
Offering customers the opportunity to share their feedback is a great way to redirect your marketing and advertising efforts to ensure that you are reaching your target population and providing effective marketing strategies to grow your business
Text Message Marketing Tip #3
Growing in popularity amongst small business owners is the advantage of Auto-Responders. Auto-Responders provide automatic responses to customers avoiding the need to respond individually to each customer inquiry. You program the Auto-Responders according to your specifications and allow them to do the work for you!
So go for it…grow your business through text message marketing campaigns!
The Betwext Team!
If you're looking for a low cost, easy to use SMS messaging or Text messaging platform for your business, take a look at Betwext. It's a Texting App that's designed with small business owners in mind…you!