How an Electric Contractor Uses Text Message Marketing
Recently we had a chance to talk with Andrew from IEG USA. They are an Industrial Electrical Contractor Company.

Andrew is their Marketing Coordinator.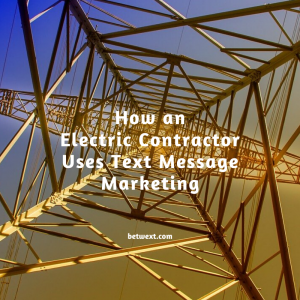 Andrew was asked not to reveal the company names of the many places they do work for… But think vehicle production lines, distribution centers, power plants and grocery store distribution.

IEG USA does something really interesting with text message marketing from Betwext.

They use text message marketing to communicate with their employees.

What a great way to use business texting!

Their CEO, Brian, wanted to be able to easily communicate with their techs in the field.

Even though IEG USA is an Industrial Electrical Contractor Company, they are considered part of the construction industry, so employees may not always have access to a computer to check emails.

Not to mention, skilled laborers working hard in the field everyday are prone to break things… so expensive iPhones aren't popular.

Text messages DO get read – and work on regular cell phones and smartphones!

IEG USA uses Betwext.com to send out reminders about company meetings.

A simple text message helps coordinate employees who are spread out all over the city.
They also found text marketing helpful with informational updates! Very rarely do the electricians start their day at the office, so an email, or flyer in the lunchroom, or face to face reminders don't really work.

In the near future they're planning on using Betwext.com for weekly payroll reminders and paperwork submission deadlines.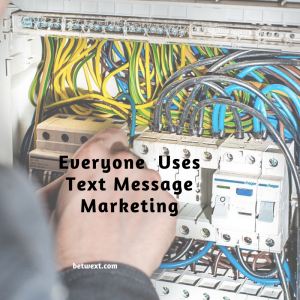 Andrew said they would recommend SMS Marketing and Betwext.com for any small business!

They first heard of Betwext.com through their church! Their church is using Betwext for communications. IEG USA thought they could use this technology to communicate too!

I asked, "What made you choose Betwext.com over all other companies?"

Andrew answered, "Betwext's customer support specialist Jackie made them feel very comfortable… and answered all their questions."

They also mentioned they really liked how easy the Betwext system is to use. And they liked our low prices and the great features!

Andrew said "We love the birthday feature, it means a lot to our hard working teams to get birthday texts… on their actual birthdays!"

They have even used our system to send helpful messages about our current issues with the COVID-19 pandemic.

Recently IEG's CEO sent a special text message, thanking the employees for their hard work. He let them know teamwork and positivity would help get them past this (COVID-19) issue.

As you can see, Text Message Marketing is a fantastic and inexpensive way to maintain contact within your organization!

If you'd like to learn more about Andrew and IEG USA go to their website: https://iegusa.com/
The Ultimate Guide to Text Message Marketing
Note: all case study participants received texting credit for their time.