FREE Texting on All Betwext Accounts!
Starting immediately, all active Betwext accounts will now include free texting on incoming messages.

That's right Zero Fees for incoming messages on all Betwext accounts in good standing!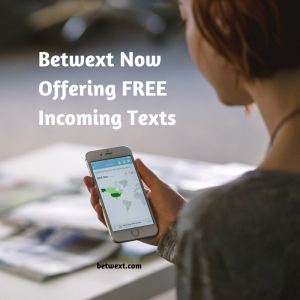 "We made this change to help out other small business owners." Said Brian, Betwext's Marketing Manager. "In today's economic environment, everyone is pinching pennies, and we wanted to help all of our account holders get the biggest bang for their buck!"

This change takes effect April 28, 2020.

"We hope it encourages small business owners to text even more with customers and prospects!"

How to Use Free Incoming Text Messages
Many account holders use texting to survey and segment customers.

For example, many businesses use texting to ask questions and get feedback from Customers. Often asking customers to reply back with a text message about their opinions, feedback, testimonials, and even complaints.

Other businesses use texting as a customer support feature.

Prospects can text in questions about product use and pricing.

Other businesses use texting to support customers with special use features, upgrades, and even renewal reminders.

One clothing company uses texting to help customers select the best size!

Often businesses find texting as the best way to connect with customers – especially millennials and Gen Z.

We hope, now that all customers get free incoming text messages, it encourages even more dialog!

For more details about free texting on Betwext accounts, including eligibility, conditions and restrictions do apply. Please contact Betwext customer support directly for more details!

If you're looking for the best way to market your business in today's tough economic environment… look no further than Text Marketing with Betwext.

The Ultimate Guide to Text Message Marketing