Why You Should Invest in a MMS Marketing Campaign
Why You Should Invest In An MMS Marketing Campaign
Digital marketing is an industry that will be worth over $335 billion dollars by 2020.
This form of advertising owes its incredible growth to the fact that today's consumers are plugged into their devices and engaging online almost constantly.  Just think about how many times you look at your phone each day!
There is no better way to make meaningful connections with customers than through digital marketing.
But which Digital marketing method is the best?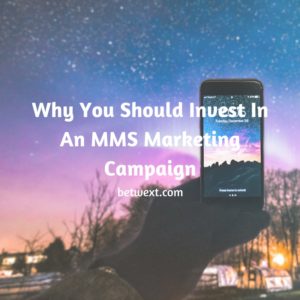 Let me answer that right now… MMS Marketing is one of the most effective digital marketing mediums available today.
MMS (multimedia messaging service) Marketing is a means of engaging people via text messaging with relevant products and services. Often confused with SMS which is standard text messaging that is purely text-based and can has 160 character limit, MMS is so much more!
With MMS you can send longer messages, pictures, videos, audio and more to covey your marketing message!
What follows are seven reasons marketers should take advantage of an  MMS messaging marketing campaign… and how it can improve their business.
1) MMS Marketing Cuts Through The Clutter
In today's digital age, consumers are overloaded with information. Email inboxes are cluttered and web pages are filled with advertisements. It's hard to make a product or service stand out among the noise.
It's even harder for customers to understand your message!
MMS marketing is low competition… and highly personalized. Because of that, businesses that choose to leverage this form of communication are able to draw real attention to their brand.
2) MMS Use Is Nearly Universal
Almost 90% of American adults own cell phones. Out of those smart phone owners, the vast majority of them use text messaging.  As a matter of fact, according to a handful of studies, texting is the most popular feature used on a smart phone!
Given how much smart phones have saturated the American marketplace, the's no better platform to use for marketing messages.
Digital marketing mediums that require users to understand how to manage their email inboxes or navigate social media accounts create a barrier between companies and consumers.
MMS messaging is a basic function that everyone's familiar with.
To that end, you can expect high levels of engagement on campaigns delivered via MMS marketing.  Some marketing messages exceed 50% and 60% response rates
Consider this… text messaging is a feature built into phones. No need to download an application… no worrying about compatibility, or how to best connect with customers.
3) Open Rates of MMS Messages Trump Other Mediums
Given the personal nature of MMS messaging, "open rates" are extraordinarily high. As a matter of fact, 90% of all messages are read within minutes of being received.  Compare that to other messaging mediums, like email, where messages are often filtered into junk boxes… or not read for weeks.
When you engage a consumer with a text message, you can count on them reading what you have to say. If what you have to say is engaging and of value to your reader, you can count on converting customers.
4) MMS Is Future Proof
Consider technology from just a few decades ago.  Remember Teletype or Faxes?  Investing in old dying technology can be counter productive.  Luckily, MMS (and SMS) messaging relies on the continued use of smart phones… and I don't see their use fading!
It's safe to say that smart phones aren't going anywhere anytime soon.  So, you can be sure MMS will be around for a long time to come.
Remember, MMS technology will continue to improve as well… That means the ability to send and deliver bigger files, more complex messages, and who knows what else!
5) MMS Marketing Is Two Way Marketing
Gone are the days of top-down marketing. Now, consumers expect to interact with businesses and have their feedback heard.
While social media has been the traditional source of customer feedback, there are limitations.  Social media relies on creating separate accounts and having applications that are compatible with devices.  Plus you need people constantly monitoring those resources.
With MMS, people are able to get all of the benefits of robust incoming and outgoing communication with their phone's native capabilities.
6) MMS is Shareable
One benefit of social media is the share-ability by the user.  It's a free boost that marketers have enjoyed!  Marketing messages shared via MMS have the same benefits.
It's easy to click on an MMS message and forward it to friends and family.
That ease of sharing can represent additional free impressions for your marketing every time you engage people subscribed to your texting list.
7) MMS Is Cost Effective and Has a High ROI
Sending MMS messages to consumers is inexpensive.
It's that simple.  For a few pennies a message, you can communicate with prospects and customers.
If you start spending money on "boosting posts" or "promoting tweets", you'll quickly see the ROI on texting far outstrips other methods.  And don't even get me started on pay per click campaigns with search engines… ugg…
Given the low cost of delivering your message and the high probability that your message will be read, you can maximize the dollars you put into your marketing budget.
To Wrap It Up
Digital marketing encompasses some of the best and most modern ways to connect with consumers. While methods of digital marketing like social media, email, and pay per click are commonly used, MMS marketing is a unique and effective tool that marketers should add to their toolbox.
MMS marketing can represent a personal, and easy way to connecting with prospects, customers, and VIPs.  it's also a great way to communicate information about relevant products and services.  Consider incorporating MMS texting into your next campaign… it will help you maximize your reach and get true value from the money you spend.
If you're looking for a cost-effective, highly reliable way to use MMS in your marketing efforts, look no further than Betwext.com.  Betwext Texting offers a variety of plans to fit businesses of all sizes. Our team has been working with happy clients for years to help them grow and stand out… by using text message marketing.
Check out our MMS plans here.  Or for more information on how to take your marketing efforts to the next level, check out our blog… Betwext.com/blog.
The Ultimate Guide to Text Message Marketing