A Handful of CRAZY Mobile Marketing Stats…
5 KEY Mobile Marketing Facts Business Owners Must Know!
For the last year, I've been beating the drum about Mobile Marketing.   And, it still shocks me how many small business owners IGNORE these drums of war!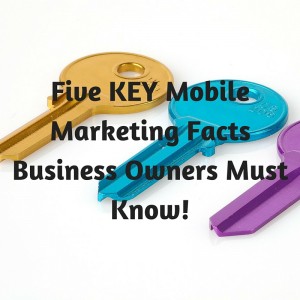 Seriously… If you're ignoring Mobile Marketing, you do so at your own peril.
Like the pioneers crossing the plains… those who paid attention to what was ahead and reacted lived… those who ignored the warning signs died.
You don't want your business to DIE… Do you?
I'm telling you, don't ignore the coming Mobile Marketing revolution.
In case you're oblivious, I'm talking about the global growth in cell phones and smart phones… and the ability of businesses to market DIRECTLY to their customer on these devices!
Let ME Share A Few Mobile Marketing Facts with You…
I recently read a presentation internet Analyst Mary Meeker gave to investing giant Kleiner Perkins, Caufield, Byers in mid 2015.
She was talking about internet trends… but what I found in her report was critical data showing every small business owner they MUST pay attention to Mobile Marketing.
Key Mobile Marketing Fact #1
In her presentation Ms. Meeker highlights the number of mobile phone users and the growth.
In 1995 there were 80 million mobile phone users representing 1% of the population… by 2014 that number had grown to 5.2 BILLION Mobile phone users and 73% of the global population.
That alone should have you jumping at a Mobile Marketing strategy.
5.2 billion people have mobile phones – you think a few of your customers have a mobile phone?
You BET THEY DO.
but that wasn't the biggest fact I found…
Key Mobile Marketing Fact #2
When they looked at the 73% of the GLOBAL population owning mobile phones – 40% of them were smart phones!
YES – 40% of the world is using a smart phone. and this was 2014 data… I know it's higher by now!
Why should you care about smart phones in the hands of your customers?
It means their phones have huge capabilities… the ability to open links, read and respond to email, access the internet, play video and audio files, and the ability with one click to call your business up and place an order!
If you're not using Mobile Marketing in your business, you're blind.
Maybe this next stat will open your eyes…
Key Mobile Marketing Fact #3
Global mobile traffic is growing by leaps and bounds… again form Ms. Meeker's report:
Mobile data traffic is up 69% in 2014, 81% in 2013 and 70% in 2012… I'm sure growth rates continued into 2015 and we'll see more of the same in 2016.
What's it mean for your small business.
Owners of smart phones – YOUR CUSTOMERS and prospects – are using there smart phones more and more. They are funneling data once reserved for their computers right to their smart phones.
If you're not developing websites that are mobile optimized – you're already behind.
If you're not starting mobile marketing strategies right now, you are risking the future of your business.
Now, here's one more statistic to raise the hairs on the back of your neck…
Key Mobile Marketing Fact #4
In 2014 Mobile ad spend was $13 billion dollars!  And it's growing rapidly… this tells me your competitors are starting to see the light when it comes to Mobile Marketing.
It means more and more ad dollars are flowing into the Mobile Marketing arena…
It means your competition is spending more dollars and they are targeting the mobile phones of your customers and prospects.
If you're running internet ads, you MUST start a Mobile Marketing effort as well.
Now, here's the fifth and final fact I'm going to drop on you today…
Key Mobile Marketing Fact #5
87% of Millennials say their smart phone never leaves their side – day or night.
Crazy right?
Just further proof if millennials are your target market… you need to be reaching out to them on their platform of choice – their mobile phones!
Millennials are tech savvy and if you expect to sell your products to them… you must start on the mobile platform.
In the future, as they become bigger and bigger consumers in society, you will be glad you developed these connections early!
Free Ways To Learn More about Mobile Marketing
So there you have it 5 stunning facts about
Mobile Marketing… 5 reasons every small business should be using Mobile Marketing today!
Mobile marketing is easy to set up, simple to use, and incredibly effective.
The Ultimate Guide to Text Message Marketing