Mass Text Message
We Broke The Rules! Our Software Was Utilized By A Company That Sent A Single Mass Text Message – 400,000 Plus Text Messages – In One Text Blast! Find Out Why…
When you need to get a message to a lot of people, you send a text message! Charity and text to give texting at its best!
This hurricane season has been the worst in memory.
Texas, Florida, and Puerto Rico have all been hammered by massive hurricanes in the last 30 days.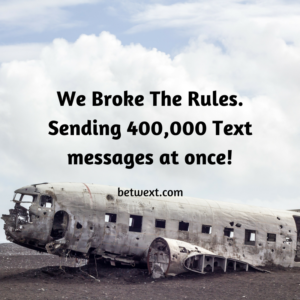 It's been a scary time.
My cousin and his family live in Florida. Luckily, they missed the brunt of the the storm. I had other friends in the state that were able to survive the devastation.
It's amazing how we are all connected… friends of friends know people in Texas that suffered major damage.
We all know someone who was displaced, suffered some loss, or rushed to help the victims of these tragic events.
I live thousands of miles away in Arizona.  So, it's hard to fathom the devastation.
It's also hard to figure out how to help.
We all donate when and where we can… but I can't help but feeling there's more we should do.
Shortly after the Texas hurricane made landfall, we answered a frantic call from an influential company in Houston. They wanted to send a mass text about the storm to in order to help raise money for the Red Cross… and we jumped at the opportunity to facilitate.
If was just 24 hours after the hurricane had made landfall.
They wanted to send a mass text to their local customers.
The goal was simple… click a link to donate money to the Red Cross.
Up till now, the company had done a little texting here and there. But, they never had sent a message of this size. Their current texting company said it was impossible.
They found Betwext.com online and reached out.
After hearing what they wanted to do, we jumped at the opportunity. We rallied our organization to speed up the delivery of the message via a multi-number rotation system.
Marketing people screened and uploaded customer lists. Customer service showed the team how to select their rotating long code phone numbers. Our management fast tracked the Houston company's training on how to use the system, and Betwext doubled the number of long codes lines as a matching gift to help with the cause.
Within 24 hours of the first call, our system started sending this mass message.
Over 400K texts had to go out.
This single send during peak hours showed the strength of Betwext's software, servers, and infrastructure.
And we passed with flying colors.
The message handoff to the carriers went without a hitch, within minutes, donations were starting to flow in.
The company knew they wanted to send a text message, as they knew people would respond.
Email wasn't always read.
Phone calls were out of the question.
Texting was the focus and it delivered the goods.
If you're thinking of sending out a mass text message… for your business or for charity…
First follow a few rules… remember you must have permission to text people… no exceptions. Always follow the TCPA rules and regulations that are applicable in your State.
Second, make sure you text them at an appropriate time of the day, nobody wants to get text messages late at night while they are sleeping soundly.
Third, keep your message short and sweet. You can send an SMS message with 160 characters. Bigger messages will be split into parts… and remember put a call to action in your message… ask people to click, call, or visit.
Finally, don't forget to give people a way off your list… by replying with the word "Stop" anyone can remove themselves from your list. Honor all requests for removal quickly!
By following a few "best practices" you'll be the texting with the professionals for your charity or business.
Remember Text marketing is so powerful, a little goes a long way. So whether you're sending 10 messages or 400,000… it's a tool that anyone can use to grow their charity or business! Try text message marketing today with betwext.com
The Ultimate Guide to Text Message Marketing