Do You Work With or Support a NonProfit? NonProfit Text Message Marketing
Do You Work With or Support a NonProfit? What You Need to Know About NonProfit Text Message Marketing
The Latest Release From Betwext.com, A Text Message Platform To Help NonProfits Raise Money.
We've been radio silent for the last few weeks… and there's a very good reason. We've been hard at work launching a new text message marketing platform for nonprofits and charitable organizations!
As you already know, Betwext.com has thousands of business customers…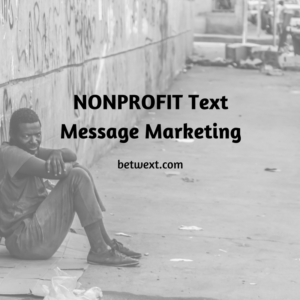 And our business customers love what we do. We have example after example of small business owners revolutionizing their business by using text message marketing. And that's great for our customers.
But as we stated meeting with other users of our software, we noticed one group in particular was struggling.
The nonprofits, religious organizations, and charities.
Believe it or not, but nonprofits are the second largest users of the Betwext system.
And they needed help.
Solving NonProfit Problems With Text Marketing
We spent months meeting with and interviewing nonprofits and charities of all shapes and sizes. We spoke with huge international organizations… and smaller local charities.
We met with nonprofits that had dozens of staff members… and those nonprofits with only one person trying to change the world!
The enthusiasm and excitement of these organizations is palpable. You can feel their drive, and goals.
They eat, breathe, sleep, and live their nonprofit mission.
Despite the excitement, there was always one problem… and we saw it over and over again.
It was a problem mentioned by the biggest… and the smallest charities.
It was the same problem nation wide.
Nonprofits struggled with communication to their donor base.
Regardless of size, every charity struggled with raising money and funding their good works. They struggled with communicating their good deeds… and they really struggled when it came to raising money.
NonProfit Text Message Marketing – When Every Penny Counts
What's most amazing is the struggle nonprofits face raising funds for their good works. They struggle to get their message out… they struggle to get assistance to those who need it most… and they struggle to communicate with donors and supporters who have promised needed funds.
I can't tell you how many times we heard the same cry – "Email isn't working any more!"
TIme and again, organizations relying on email lists, and email marketing for donations were seeing numbers drop, and drop, and drop.
The solution is simple, using text message marketing.
With 90% read rates and engagement rates that would make an email marketer cheat… Mobile marketing, and text marketing was still seen as a struggle.
We had some hurdles to overcome…
NonProfit Texting Hurdles
There were a number of responses we heard from the nonprofits we interviewed. They fell into a few distinct categories.
Text message marketing was complicated…
Learning new software took too much time…
Knowing what to send to sponsors or donors was a struggle…
Getting our IT team involved was difficult…
For small organizations – the key organizer just didn't have time.
We can't absorb another high cost technology!
We had our work cut out for us! So, we took all this feedback and rebuilt the Betwext.com system.
We still have the power of our core technology… But, we started from scratch and rebuilt the entire customer interface.
We started with cutting out all the unused features. We cut the things nobody used.
We streamlined the various operations. In some cases cutting out more than 50% of the steps to send a message, upload subscribers, or manage a list.
We made the user interface much more friendly and logical… and added more than a dozen videos on system setup, organization, and operation.
Now, even a non-tech person can use the system in a matter of minutes!
We added a special templates section giving you suggested message types, so you can literally fill in the blank on some of your messages! This alone makes fundraising easy…
We deployed an App to use the system from your phone. And of course we increased the system speed when you use it online!
We made the whole system so easy to setup and use, you don't need an IT guy… or a technology wiz!
But, that's not all.
We negotiated special rates for nonprofit text messages! We now offer the lowest per message rates in the industry for nonprofit texting…
And, we changed our entire service pricing to give flat rates. Every service now comes with monthly messages included in the cost… This gives every nonprofit or charity a guaranteed low monthly rate they can build budgets around. No more worry about going over your monthly spend!
The changes are revolutionary…
When Will The Nonprofit NonProfit Text Message Marketing Platform Go Live?
We've spent the last few months rebuilding this new nonprofit texting platform. We've been building and testing… and testing and building.
A few weeks ago we opened the system to our beta testers… and over the next few months, we'll be sharing their stories about using the system with you.
In just a few weeks more, we'll be announcing the launch of our nonprofit platform…. And show you where to sign-up!
Now we know many of our readers may not be running nonprofits or charities… but we know many of you have big hearts. Many of you support a local animal shelter, or religious organization. Many of you donate to rescue organizations, or nonprofits helping children and the poor… here and abroad. Many of you are board members, or advisors, or supporters of charities that are close to your heart.
I ask you one simple thing…. Please reach out and encourage your charity or nonprofit to contact us… Our goal is to help 1,000 nonprofits communicate with their supporters, and use text messages to raise money for worthy causes!
If you are a nonprofit, a religious organization, a charity, or a good works organization and you'd like to learn more about the nonprofit texting platform, how it might work for your organization, and get a live tour of the software… then please email Brian@betwext.com to learn more.
We'll respond right away, and schedule a time to give you personal feedback on the newest product to help
The Ultimate Guide to Text Message Marketing