SMS Online, Everything You Need To Know About Sending and Receiving SMS Messages Online
Do you need to send SMS messages online? Do you have a business and you want to send and receive SMS online? Here's everything you need to know.
If you want to know more about sending and receiving SMS messages online, you're in the right place. Today, we're going to cover a ton of stuff… like why you'd want to send sms online… Who should send SMS messages… and how to send and receive sms messages online.
But that's not all.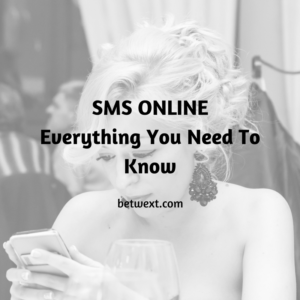 We're also going to touch on what SMS online app to use… and finally how to send a SMS online free, and why you don't want to do it!
So, let's jump in!
The first question is… what is an SMS.
SMS is a fancy way of saying text message. You know, you open your phone and text a friend or family member.
Technically, you're sending them a SMS message.
WHY would you want to send SMS Messages?
Why Would You Want To Send An SMS Online?
This is a question that has a thousand answers… so, let me touch on a few.
Despine SMS messaging being around for more than 20 years now, SMS messaging (or texting) is now getting HOT.
You see, today, your customers and prospects are overwhelmed with the volume of marketing they're seeing.
They see commercials while they watch TV. They see commercials while watching YouTube! They get ads in their mailbox… they see billboards on the drive to and from work… they see ads in magazines and newspapers (if they still read those)… and they see ads EVERYWHERE when surfing the internet!
But wait… it gets worse…
One of the biggest ways people make money these days is by email marketing… so do you think we get a lot of email messages? You better believe it…
This one fact will blow your socks off…
According to the April 2017 Internet Retailer's magazine, one company – AMAZON – sent 1.6 billion emails over 14 days!
Think about that!
There are 300 million people in the US. Amazon, in just 2 weeks, sent enough marketing emails to send each American 5.3 messages!
Look, email marketing is getting overwhelming.
If you have an email list you probably have seen just how poorly it performs. On average an email you send to a group might only get a 20% open rate… if you're lucky!
Everyone needs to figure out how to get their marketing message delivered to customers and prospects.
This is where SMS messages come into play.
Did you know people always have their smart phone with them… and we check the damn things 150 times a day!
It means the average person looks at their phone every 7 minutes!
If that's not a reason to market with SMS let me give you another one.
SMS messages are read 94% of the time!
It's a tad bit better than email…
So why send SMS online? Because it's a perfect way to engage your prospects and customers.
But that's not the end of it.
Who Should Be Using SMS Online Tools?
This is an easy question.
Almost everyone.
Are you a small business owner or manager… you should be sending SMS messages.
Do you run a nonprofit or charity… you should be sending SMS online.
Are you a part of a group, like a church, a sporting league, a social organization? You need to be using SMS online messages to communicate!
Here's the big thing.
Businesses that use SMS to message customers and prospects see huge gains in sales and profits.
Nonprofits that solicit donors using text SMS messages see a big jump in donations.
Organizations and groups who use SMS online to communicate, they see a huge jump in engagement. No more unanswered phone calls, or unread email messages!
So you know why to send an SMS… and you know who should send sms online… the next logical question is HOW!
How To Send An SMS Online
Believe it or not, how to send an SMS message isn't a difficult one to figure out.
You can simply start with your own phone.
Simply type in a list of customers or prospects and shoot out your SMS messages by texting from your own phone. But that, you will quickly see, is a slow way to do things.
You can buy software to load on your computer.
This allows you to send and receive SMS messages… but with software, there are problems.
You need to upgrade every few months… don't forget to download bug fixes… remember to keep your versions up to date.
Not to mention, you need to learn to use the software, which takes time. Finally, SMS software is often very expensive.
The far easier way to send SMS online, is to use a web based service.
Yep, use a service that's in the cloud.
What SMS Online App To Use
If you're looking for online software or software as a service "SAAS"… then you are in luck. There are dozens of SAAS software companies that provide text message marketing for businesses and nonprofits.
What's an advantage of using a online software to send SMS online?
First, The software is always up to date.
Second, provisioning a phone number is easy.
Third, the user interface is simple to use.
And Fourth… you only pay for what you use… it's cost effective!
If you're looking for a good SMS online service, small businesses should look at Betwext.com… non-profits and charities should look at GivingText.org
Of course there are others… but I'm biased and believe these companies that I work for are the best!
Now most of these SMS online software companies charge for their services.
Can you send an SMS for free?
Yes…
How to Send SMS Online For Free
Of course there are various websites that can send SMS messages for you for free. But you use them at your own risk.
First, how do you know your information is secure?
What's to prevent a spammy website from stealing your data or texting your customers themselves?
I can think of 500 other reasons NOT to try and use a free service to send SMS online.
The other big one… who is paying for the service?
Sending SMS messages isn't free… how do you think the phone carriers make their money?
Nothing in life is free… and if you try to use a free SMS online service, you're going to get burned!
You can do it… but you'll quickly realize the low cost of using an honest business and real software is the better choice!
So there you have it… why send SMS online…
The Ultimate Guide to Text Message Marketing