Six Questions From Small Businesses About Mobile Marketing!
6 Questions From Small Businesses About Mobile Marketing!
Just this week I had a question from a small business owner looking at Mobile Marketing.
The gentleman was an inspirational speaker, and he was wondering how to use Mobile Marketing for his business. He had a bunch of questions about HOW to use Mobile Marketing…
So, I thought I'd share a few of his questions… and add on a few more I see all the time from other small business owners.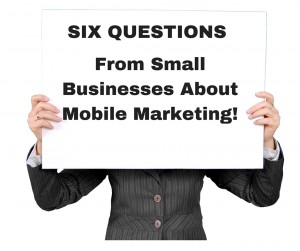 Who knows… maybe you're thinking about SMS marketing and have the same questions too!
The first thing I did was ask him about his business. He's an inspirational speaker, he does events all over the United States, and he sells a book. He also does one-on-one consulting.
Now I have enough information to be dangerous!
We had a great conversation, but it was too much to share everything, so here's the key questions he asked:
Mobile Question 1: How do I get people to sign up for my Text Marketing list?
This was an easy one to answer. I told my friend to bribe people with a free offer. He stands up in front of large audiences and could offer them almost anything.
He might offer a free t-shirt, a special report, or a link to one of his inspirational videos. I know some places offer a coupon or special discount… others offer special information or early bird access to special events! The options are only limited by your own creativity.
I know one sports trainer who offered his prospects a free daily motivational message! Like I said creative…
Mobile Question 2: How Do I respond to people who sign-up.
Now, my friend didn't ask this question, but I get it frequently from other business owners. Most Mobile Marketing software allows you to set up an auto-responder or welcome message. It's simply an automated response sent by the system.
You want to simply remind people who you are… include a link to whatever goodies you offered people, and maybe a note on what to expect next. Keep it simple!
Then once people are on your list, you can share a ton of other information, news and events as it comes up. It's just like sending an email… but much more effective!
Mobile Question 3: Can I send them a link to like my Facebook page?
This is a great question!
I haven't seen anyone do this yet, but there's no reason you can't. Think of it this way, if you can create a link with tracking or directing people to a particular part of your website… we can send it via SMS Marketing! Just remember the size limitations of the text message – 160 characters for SMS messages.
Most people have smart phones these days, and the link will automatically open up in their browser of choice! Just remember to make sure wherever you send people is mobile optimized!
Mobile Question 4: Can people opt in for my email address from a mobile message?
Absolutely! You can collect email addresses through the Mobile Marketing system… or better yet, send people a link to a mobile optimized squeeze page. You'll get more sign-ups and it will tie in easily to your email system.
As a side note, we recommend customers use both Text Message Marketing and email marketing together.
Why?
Response rates are better! Think of it this way… if you're running a special you don't just tweet about it and call it a day. No. You post it on twitter, Facebook and LinkedIn. You put up banners on your website and then email your customers about the deal.
We recommend you add SMS Marketing to that sequence as well. It will ensure customers see your offer, and it gives them yet another touch point for buying your products!
Mobile Question 5: Can I offer a giveaway to people who sign-up?
Wow – what a great idea. Of course you can. Here's how it might work… at an event, tell people about a special offer. Then tell them to text in a special Keyword.
Then you can access the system and randomly pick someone who just signed up for a free giveaway! This is a perfect reason to use different Keywords for each event.
I love the creativity of some people.
Another side note – Some of you eagle eye legal beagles will note that often times giveaways are regulated by state law. I'm not a lawyer – never have been, never will be – so just make sure to check with your legal team!
Mobile Question 6: Why would I want different Keywords for Mobile Marketing?
Honestly, You don't need to use different Keywords but it's a great way to segment your list.
So say you speak to a group in Dallas you give them the Keyword "Dallas" it's a way to know where they came from.
You can offer up a different Keyword for people interested in 1 on 1 coaching… i.e. text "success" to get more info on coaching.
You could offer another group a discount link for your book… just have them text in the word "book."
Now here's a real world bit of advice about Keywords… use something short and easy to spell.
True story. I was at a restaurant opting in for their Mobile Marketing offer. Keep in mind it's a huge chain that I'm 100% sure you'd recognize. Anyway, every time I typed in the Keyword my phone's auto-correct feature would kick in and change it. They used a weird Keyword that was hard to spell.
It took me three tries to successfully sign-up.
I wonder how many thousands and thousands of sign-ups they lost because of that one little mistake!
What's the difference between a short code and a long code for Mobile Marketing?
That question, I'm sorry to say, can't be answered in just a few paragraphs. So stay tuned and I'll answer that question in a future article!
Is that all the questions out there about Mobile Marketing?
Not by a long shot.
I don't have the room to address them all here… but we have a free guide that touches on many of them. If you're looking at Mobile Marketing for your business, this free report is a great place to start!
The Ultimate Guide to Text Message Marketing