7 Crucial Reasons You Need SMS For Network Marketing
7 Crucial Reasons You Need SMS For Network Marketing
Let's face it, SMS Marketing is a great way to reach a large audience quickly. If you're looking to improve your reach, here's why you should be using SMS messages for network marketing.
Network marketing is all about expanding your personal and professional network and making strong connections with those people. It's about creating success for you and for others by motivating your team to work hard and work together every single day.
It's all about Communication!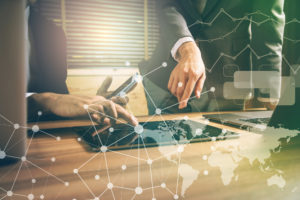 As a result, you're always in contact with someone.
Whether you're reaching out to a new lead or doing a one-on-one with an existing client, your phone is constantly buzzing. Meanwhile, your social media messages and emails are piling up, too.
This is why you need SMS messaging for network marketing. Automated text messages can transform the way you interact with your market and your existing team.
The list of benefits is as long as my arm…
Here are Seven Benefits of Using SMS for Network Marketing.
Trust me, there are more than 7 benefits to using SMS Marketing for your business.  I'm going to highlight the big ones for you to consider.  So, if you're on the fence about using text marketing, keep reading… you'll be a Texting convert in no time.
Now, on to the list…
1. Reach More People With SMS Messages
When you're pulled in many different directions, it's hard to focus on the people right in front of you. You want to focus on the people who need you now… but every good businessperson knows you must be fostering new connections.
How can you balance it all?
By using Text Message Marketing of course.
How?
First realize a business Text Marketing system will allow you to reply individually to prospects and customers.  You can answer questions, give directions, send links and info, and really connect in real time.  This is known as one to one texting… no blast messages here!
At the same time, good Text Marketing systems allow you to also be cultivating relationships with prospects and customers… and your down line!  This is where you can send out an auto responder or drip sequence to educate and stay top of mind.
Good texting systems have this drip feature and it's easy to use.  You can send a message a day if you want.  Or, for longer term education and follow-up set up a message a week for the next 3 months.  You'll always be top of mind – automatically!
Finally, you can send out blast messages to key groups… announcing a new product or service, having a sale, or doing something special for your down line… Mass text messages are the way to go!
But just reaching out isn't the only way to connect.
2. Create Targeted Conversations With Text Messages
Why is texting easier than email?
Not only can you better manage all the conversations you're having, but you can make them more effective, too. Constructing a SMS text message is so simple… it's a maximum of 160 characters… or up to 600 if you use a special MMS message.  Writing a short message is much easier than writing out a long, engaging social media posts, or detailed emails.
Another advantage is your ability to segment your contacts.  Have one list for employees… have another list for prospects, yet another for your down line, and yet another for your VIPs.
You can send a particular group a special text message about an upcoming event, a new product, a special offer, and more. The trick is to keep it short and sweet and make sure what you're sending offers value.
3. Send Direct Links With SMS Messages
Whatever your text messages are about, try to include a direct link.
YES – when you text someone, you can simply add a link… and the cool thing is, if you do it right, you can make your link look like a button in the text message!
In a text message, the link is front and center for your contact. There's no extra work for them to do, they just need to click.  This is why click-through rates on SMS messages blow all other type of marketing out of the water!
It's easy to do and gets results…
4. Enjoy Easier Planning And Execution With Texting
Speaking of doing things a little bit easier, consider all the planning and execution that you're putting into marketing your networking business right now.
Writing and scheduling blog posts, interacting on Facebook, Twitter, Instagram, Pinterest, LinkedIn… in addition to your regular email out reach… it gets overwhelming.
This is where Text Marketing really shines.
First, consider the time and effort planning your marketing efforts… Here's a link for doing it with text marketing in only 10 minutes…
Your 10 minute mobile marketing strategy!
See, I told you it was easy.  Remember, It's simple to set up and target different groups with your messages.  And it's easy to  check in with them too.
Now, let's talk about growing your leads…
5. Build Your List of Leads With SMS Messages
Another reason to invest in Text Message Marketing is to help grow your leads.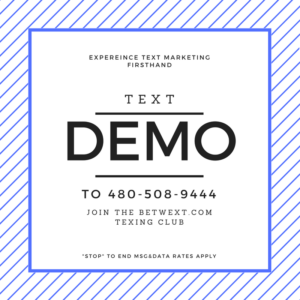 Think about all the business cards you get at events or all the strangers whose numbers you get on a normal day.  You want to capture their info, but it's difficult.  Business cards get lost, promises of follow-up get forgotten, sign in sheets are sloppy and illegible… and what if you're speaking in front of 500 people?
Texting is the answer.
What I do when I meet people is I tell them to pull out their phone and text the word DEMO to my number: 480-508-9444.
Nobody objects.  And I can share my information and knowledge, and people can communicate with me directly.
Here's how one speaker uses texting to capture leads…
How Speakers Use Group Texting to Grow Their Business
Think about how much time it takes to capture lead information.  Name capture with texting makes it easy!  Remember, after they sign up, you can send the whole group a blast text… or individually text with people one to one!
But you can't just rely on texting 100% of the time…
6. Combine Texting With Your Online and In-Person Efforts
Text Message Marketing is amazingly effective.  Response rates are through the roof, and it's easy to use.
But… you can't stop your other marketing.  Email, Social Media, and face to face interactions are all important, and they work best when used in conjunction with texting!
Actually, they can support one another very effectively.
For example, use texting at conferences to capture prospect info.  Use your Facebook account to ask people to join your texting list… use text messages to announce new blog posts… use email to send important info and order confirmation info… then follow-up with a text and a link to a survey.
Use your texting system to reach out to the leads you're getting online.
As more and more people sign up on your email list or send you a social media message with their phone number, you're able to instantly say a quick thank-you or a short welcome. These messages are fairly simple, but they're incredibly effective.
Such a quick turnaround on your end shows leads that you really care. It tells them that you're passionate about sharing your knowledge and creating new successes together.
7. Texting = High Rewards at a Low Cost
The final reason to invest in text message marketing is very straight forward – it's cost effective.
Once you understand the ins and outs of text message marketing, you're able to do so much more with it.
It goes from a lead generation tool and something you touch base with to an integral part of all your communication systems. Before you know it, you're using SMS messaging to market an upcoming event, talk about an awesome training course, offer special rates, and more.
There's no limit to what you can do, and it's all available at a significantly lower price than many other marketing tools. Not to mention, the value is amazing!
You just need to pick the best texting provider for your situation…
Grow Your Network Marketing Business Now
If you're looking to rapidly expand your network marketing business, you need to seriously think about investing in text marketing.
This one tool can transform the way you approach all aspects of your business, making every single effort more effective. It changes how you reach out to leads, motivate your team, and market new opportunities.
The Ultimate Guide to Text Message Marketing