11 Easy Giveaways To Get Prospects Signing Up For Your Mobile Marketing List by the Hundreds!
How Do I Get People To Sign Up for My Text Message List?
As you may remember, I offered to help a friend who was using a competitors text messaging software… actually, they were paying for it, but not using it.
So, I offered to help them.
The first thing I did was give him 7 critical tips… best practices if you will… for using text message marketing.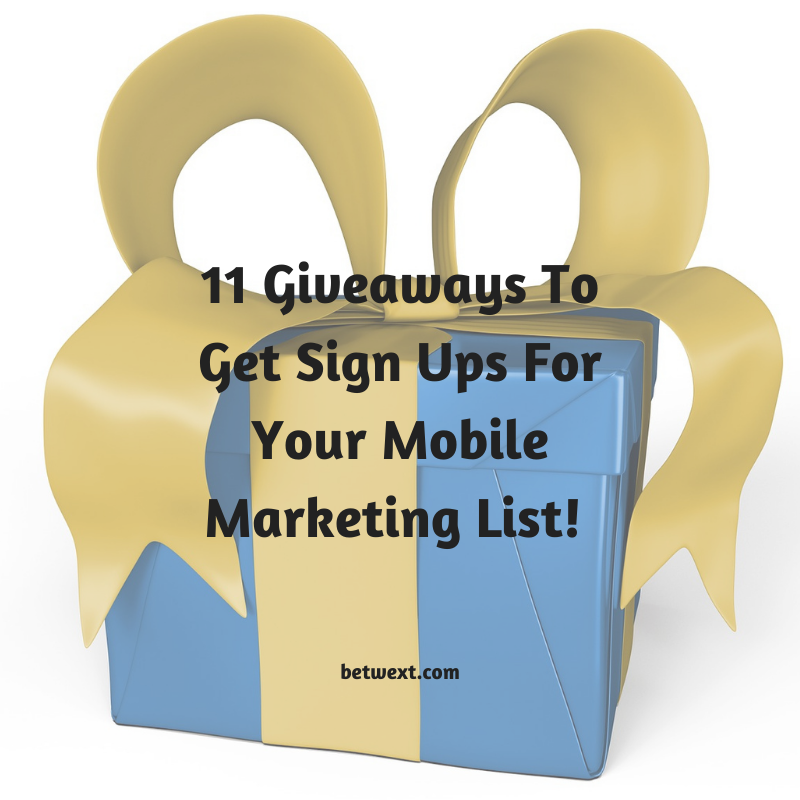 But then came the next question.
How do I get People to Sign Up for MY Text Message List?
The answer is simple, you bribe them.
Let me clarify – you give them something they can't live without… and really want… and in exchange you simply ask for their cell phone number.
While the answer is simple… it's a bit more complicated than that.
FIRST A WARNING ABOUT TEXT MESSAGE MARKETING
I want to start off with a warning – I've said this in the past, but it bears repeating. You can't just text anyone you want. They MUST opt into your list to receive messages from you.
NO you can't buy a list.
NO you can't rent a list.
NO you can't Borrow a list.
Please don't steal a list either.
If you try to use a list of phone numbers that are not yours… the cell phone carriers will shut your texting phone number down. I've seen it happen. And it's an easy way to ruin your text message marketing process.
Trust me, don't do it.
So, What's the Best Way to Add People to Your Mobile Marketing List?
Well, you can do it any number of ways – you can ask them to sign up and pass around a sign-up sheet. I've heard of people doing this…
You can ask your customers verbally to join and for their phone number when they enter your store… or checkout… And add them to the list at that time.
Or better yet – you ask people to pull out their phone and text a Keyword to your phone number.
Why is that the best way?
Because now you have a record of them ASKING to be on your list. You have proof they signed up, and it lessens the risk of the carriers claiming you are spamming people with text messages.
The other benefit… you can give different groups different Keywords. You can give one Keyword to your VIP customers, use a different Keyword for prospects… yet another for new customers, and another for employees!
It's an easy way to segment your list from the get go…
Now, most people won't just give up their phone number… you need to give them something in exchange.
Eleven Easy Ways To Bribe Customers To Sign Up For Mobile Marketing Lists
Here are a few ideas and examples:
Run a restaurant? Offer Customers who sign up a free meal, drink or desert.
Run a retail store? Offer prospects a coupon for their next visit.
Sell something common? Offer prospects a free undisclosed gift or bonus
Are you a speaker – Offer to send copies of your slides from your presentation.
Are you a Consultant? – Give prospects access to a motivational video.
Are you a Real Estate Agent – Offer customers who sign up a free home price evaluation
Running a Dry Cleaner – Give customers a special coupon to clean something new – like a comforter.
Operating a Car Wash – Give signups a free wash or wax
Are you a Personal Trainer? – Offer to send a series of motivational messages
Are you a Blogger – Offer to text people a rundown of your best blog posts
Are you a Podcaster – Text people links to your most popular shows!
Are there more? Of course!
I'll mention more in a future article!
Just remember, the offer can be anything of interest. Heck, if you're at a conference running a booth, you could give away one or two lucky subscribers something cool or valuable. I saw one group offering a free computer to a lucky winner! (Just remember to consult your lawyer about giveaways!)
The key is to find something valuable… and give it to people in exchange for signing up!
When you find the right item, you'll have hundreds of people clamoring to sign up for your list in no time!
For now, we're going to call it a day…
Happy Texting!
BRIAN
The Ultimate Guide to Text Message Marketing